Discover the FOCAL INSIDE range for MERCEDES-BENZ
Focal Inside offers a selection of audio systems designed and adapted to each model in the MERCEDES-BENZ range.
Replace the original system
—
Focal Inside solutions are compatible with the original multimedia/audio system: on-board computer, steering wheel controls, Bluetooth® receiver.
The installation can be performed on your own. Tutorials are available to guide you on our Youtube channel.
For more safety, it can also be done by our official distribution network.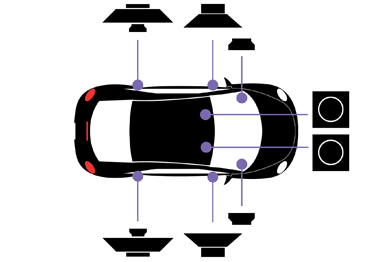 GAIN POWER & PRECISION
> Live and immersive listening
> Real-life sound and precision for all passengers
> Smooth, dynamic, controlled thanks to the extra power
Give your MERCEDES-BENZ's audio system a serious boost by integrating a subwoofer.
By backing up the bass response, this new element unloads the other speaker drivers and increases the dynamics and precision of your entire installation.
A GLOBAL ACOUSTIC SOLUTION
> Extended bandwidth
> Improved precision and detail
> Improved soundstage
Improve listening comfort in your MERCEDES-BENZ vehicle by replacing the OEM system with a FOCAL INSIDE Comfort system.
Focal experts have created speaker driver kits that are perfectly adapted to each vehicle model.
FOCAL INSIDE
LIVE / DRIVE
PURE, CLEAR SOUND
> Realism and precision
> Improved sound stage
> Wide bandwidth
Enjoy precise and detailed acoustics every mile of your journey.